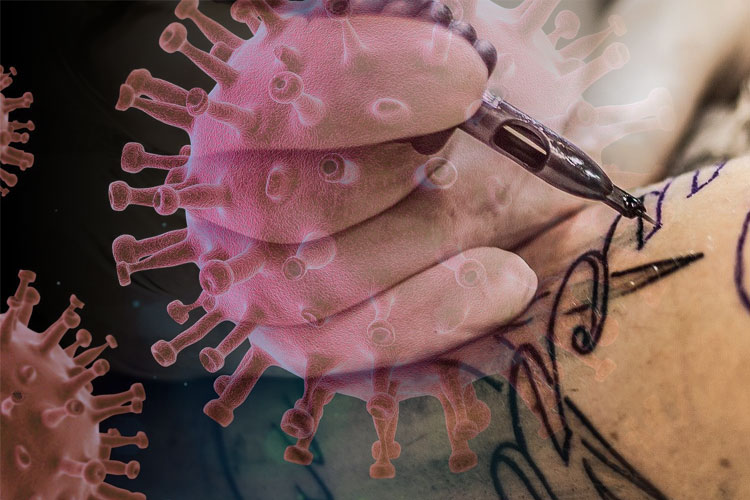 Warlocks Tattoo COVID Compliance
At Warlock's Tattoo, we know that safety and cleanliness are crucial during 'normal' times. We have always had a zero tolerance for anything but the best where sanitization is concerned. The NC Department of Health and Human Services has released several guidelines along the way and we have adhered to those requirements verbatim to continue to offer a safe and talented environment for our customers to obtain the tattoos they desire.
According to The NC Department of Health and Human Services (as of April 30, 2021), Tattoo businesses are required to:
Limit occupancy to no more than 100 percent of the stated fire capacity (24 per 1,000 square feet if there is not a fire code number readily available) AND ensure sufficient social distancing with at least 6-foot separation between patrons.
Post the reduced "Emergency Maximum Capacity" in a noticeable place.
Arrange or use seating so that customers are separated from one another by six (6) feet.
Mark six (6) feet of spacing in lines at point of sale and in other high-traffic areas for customers, such as at cash registers.
In addition to these requirements, tattoo businesses are recommended to:
Post signage at the main entrance that reminds people to use face coverings and wash hands.
Space areas where services will be provided at least 6 feet apart. Designate which chairs are to be used, and which may not be used, if chairs are less than 6 feet apart.
Close your waiting room, all common seating areas, and lounge areas.
Consider staggering appointment times so that social distancing is achievable, especially if limited resources are available.
Ensure ventilation systems operate properly and increase circulation of outdoor air as much as possible by opening windows and doors, using fans, or other methods. Do not open windows and doors if they pose a safety or health risk to people using the facility.
To ensure we maintain these requirements and recommendations, we go a step further. Each artist at Warlock's Tattoo has his or her own designated 'office' in which only one customer at a time can be in the room receiving their tattoo. Our artists are meticulous in their sanitization during and between appointments, wiping everything down with disinfectants and cleaning all tools and surfaces between appointments with some of the industries best disinfectants. We pride ourselves as always providing these sanitization measures, even prior to the COVID-19 outbreak.
All of our tattoo needles are single-use only and are disposed of in approved biohazard containers. In addition, all ink used for tattoos are drawn from single-service caps that contain individual portions and the remainder is discarded after use with each tattoo. As the oldest tattoo studio in Raleigh, North Caroline, we have always taken sanitization and aftercare very seriously so that we can continue to offer the best tattoos to our clients. To learn more about our sterilization policies, please click here.
If you have any questions regarding our COVID-19 and/or sterilization policies and procedures and to schedule your next tattoo, please contact us here. The quality and safety provided by our artist is of the upmost importance so that we can continue to deliver the best tattoo artwork in the Raleigh, North Carolina area.